NVENTREE eCommerce Design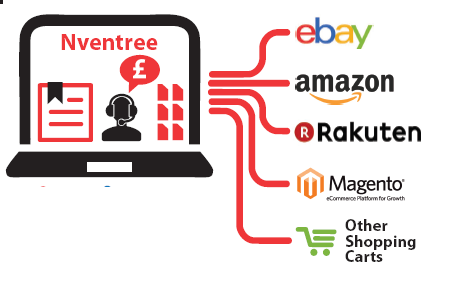 Nventree has been developed in house by us to provide you with an Integratable shopping cart solution. One cart can service multiple channels and push your products through to eBay, Amazon or your own website. The simple and effective eCommerce solution.
Custom designed shopping cart
Stock management across all sales channels
Automatic updates and synchronisation with all sales channels
Update stock, prices, categories etc. in bulk
Create custom template on eBay and your own webstore
Manage all your order from all your channels in one section
Customise automatic dispatch emails for customer service
CSV/XML facility for bulk listings
NVENTREE – Multi-Channel Management Software
Save time listing on eBay, boost your sales and make over selling an issue of the past.
Get a demo of the leading multi-channel stock control system, order and listing management software.
Free support and training available via telephone.
Manage your eBay, Amazon, Rakouten, Amazon webstore, Magento webstore from one single account.