Ebay product identifiers


As you all should know product identifiers are now required for all single listings that are live on eBay, as well as for all new listings posted as of 29th June 2015.
Product identifiers help buyers find exactly what they're looking for; as well as making it easier for Google and other search engines to match your items to specific searches. Although this is a somewhat tedious and long task eBay have implemented especially for sellers with very large inventories, this new requirement will definitely have a positive impact on the traffic driven from SE (Search Engines) to your eBay listings and will most probably generate an increase of sales if you haven't been using the Google merchant options prior to this new eBay policy that was launched this week.
What are product identifiers?
"Product identifiers are unique product codes which are usually found on the product's label" as seen in the above picture.
They are used by retailers to manage their stocks. You may have already used such identifiers in form of SKU's or custom labels in your eBay account.
However these product identifiers must be the manufacturer's codes and not your own made up ones.
Some common examples are:
Brand: This is to specify that the item was made by a particular manufacturer.
Global Trade Item Number (GTIN): This is a bar code assigned to most retail products. It includes European Article Number (EAN) and International Standard Book Number (ISBN). Visit gs1.org for more about GTINs.
Manufacturer Part Number (MPN): A random number that, in combination with the brand, uniquely identifies a product. Manufacturers use these numbers to manage their product inventory and product lines. View eBay's guide for more about MPN.
Product identifiers are required for business sellers to list branded items that are new or manufacturer refurbished, in certain categories. The requirement applies to single-item listings from 29 June, 2015, and to listings with variations from 1 September, 2015.
Within affected categories, the required identifiers will apply to:
New listings
Listings you've manually relisted
Listings where you've revised the title, category, GTIN, item specifics or item condition. If you revise other fields, such as price, you don't need to add product identifiers.
As part of the requirement, business sellers must use product identifiers in these categories:
Baby
Books, Comics & Magazines
Business, Office & Industrial
Cameras & Photography
Clothes, Shoes & Accessories
Computers/Tablets & Networking
DVDs, Films & TV
Health & Beauty
Home, Furniture & DIY
Mobile Phones & Communication
Music
Musical Instruments
Pet Supplies
Sound & Vision
Sporting Goods
Toys & Games
Vehicle Parts & Accessories
Video Games & Consoles
If you don't know the unique product identifier for your items, contact the manufacturer.
As mentioned at the beginning of this article, product identifiers are a key source of traffic to your listings via Google Product Search. For items, to appear in these search results, Google requires all sellers to include product identifiers in their listings.
The table below outlines the product identifiers required by Google for your listings to appear in Google Product Search.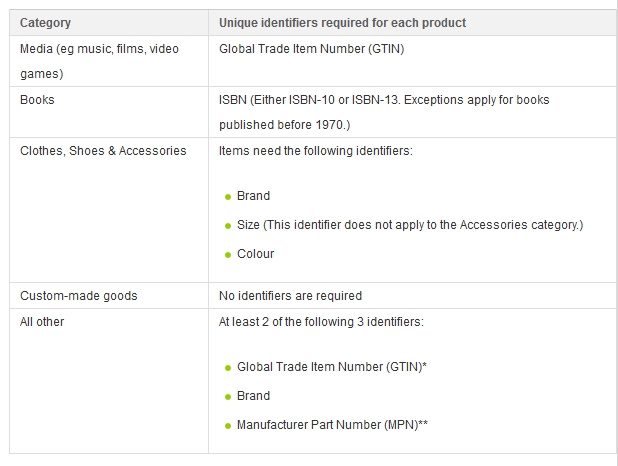 Adding product identifiers via Ad-Lister
Ad-Lister is a listing tool for eBay. Its sole purpose is to enable sellers to list items on eBay more easily with bulk edit and update options as well as allowing customers to create professional listing templates.
Ad-Lister has been upgraded for this new eBay policy and we have added a new helpful option in order to help you complete your listings.
Prior to this new policy from eBay, Google merchant options were already implemented so these fields (Brand, MPN etc.) are already available.
In case you haven't used them previously, you will find them in each individual product's page when editing.
Going to inventory > all items will bring up your inventory list and you simply need to click edit for any record, then hover down just above your product description's editor: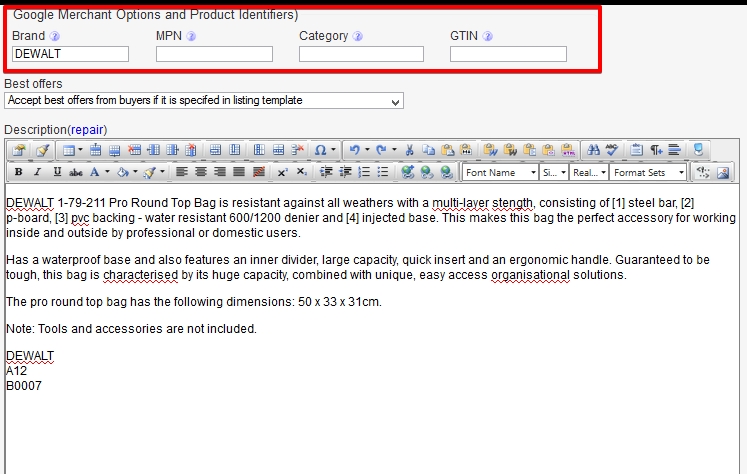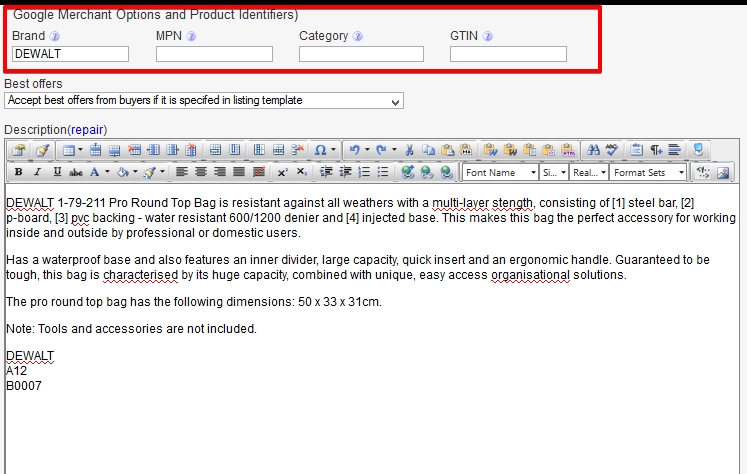 There has been one small update to this section as well and this is the GTIN field. Please Visit gs1.org for more information about GTINs.
Just above Google merchant options, you will find another field which can be used to input the EAN/ISBN code, if these are available.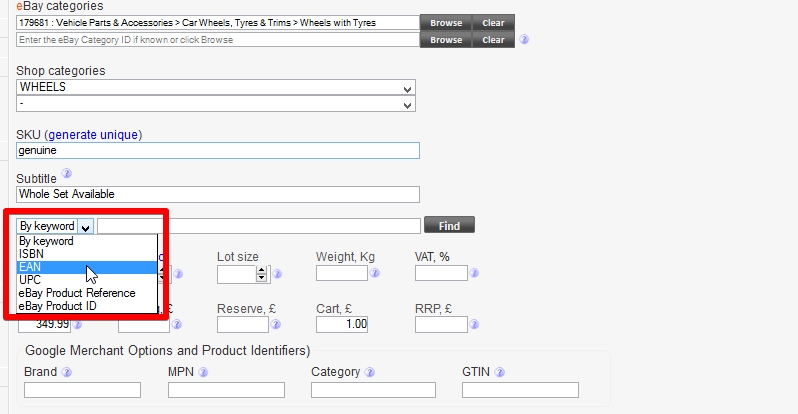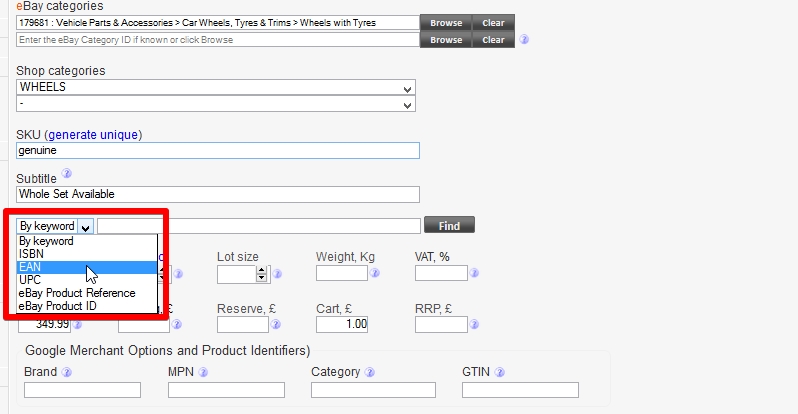 Apart from these 2 sections eBay advises that you may also input these details in your items specifics page.
You can easily add product identifiers in bulk via Ad-Lister using the product CSV download facility by going into inventory > all items select the products you need to work with and press download on top.
In the download page make sure you select ID+SKU so Ad-Lister can match products once you finish and upload this file back to the system. Apart from these you must also select the 'Reference' option which will be used to fill in the EAN as well as the Google merchant options.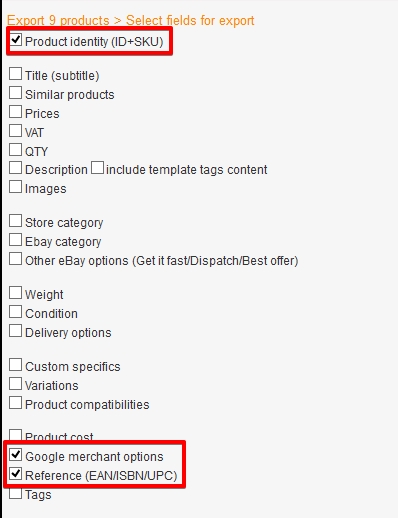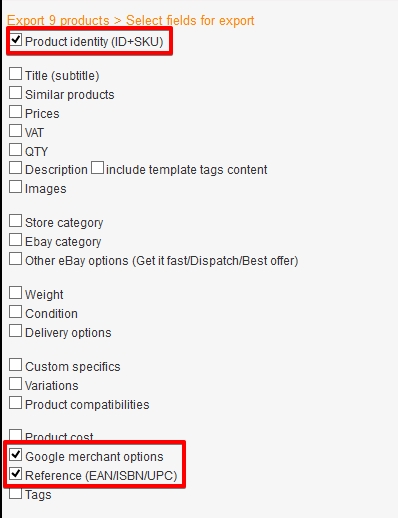 Upon downloading you will open the CSV and fill in the necessary data. In the below screenshot you will see how the CSV look like: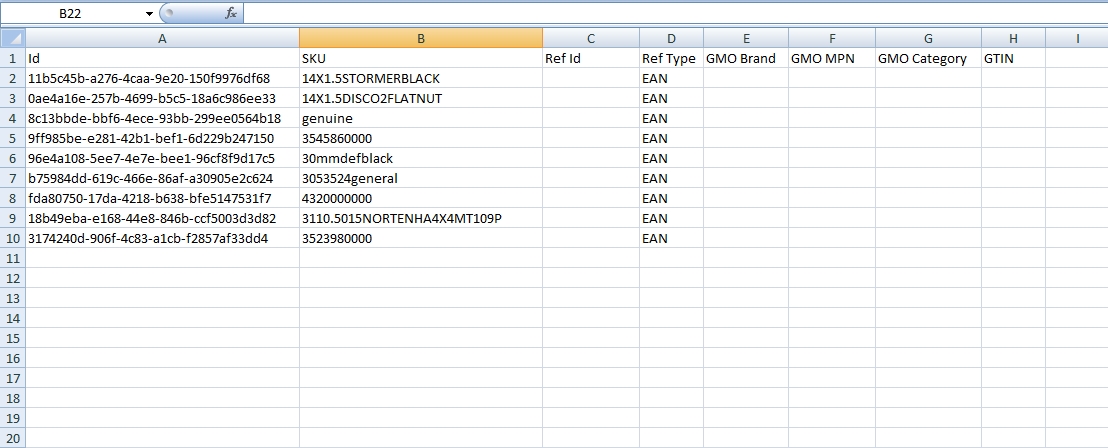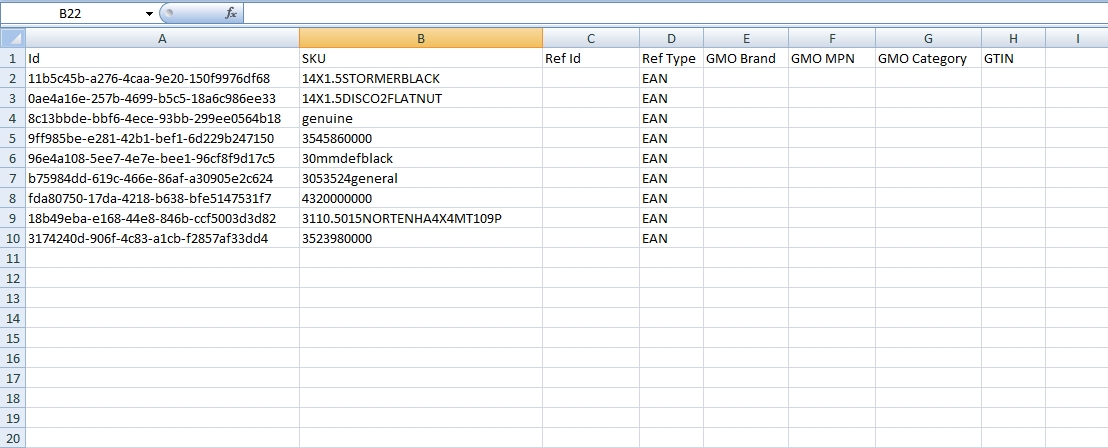 As you may see column D will be used to input the type of code used (ISBN, EAN, etc.), in column C you will input the actual codes and, if available, you can fill in the GMO's as well in columns E,F and G.
Apart from this CSV download we have prepared one more option to help add this required data by bulk.
By going into your inventory page once more, select the necessary products then click on the top edit option and within the drop-down you will find these two options: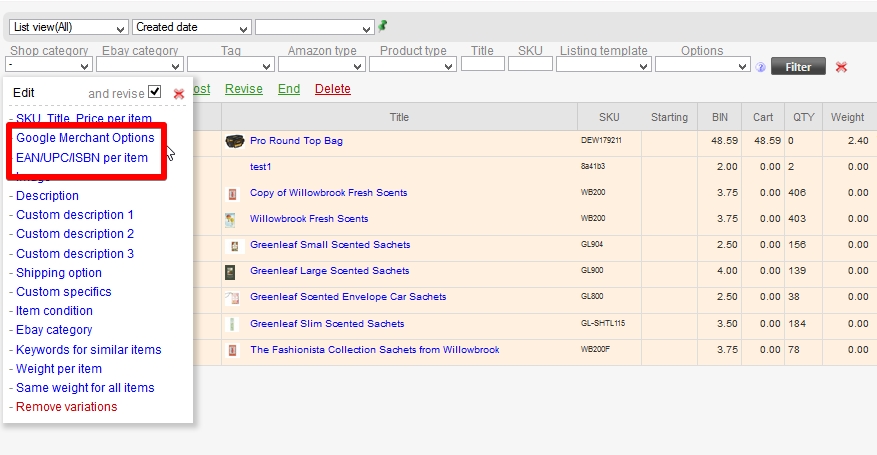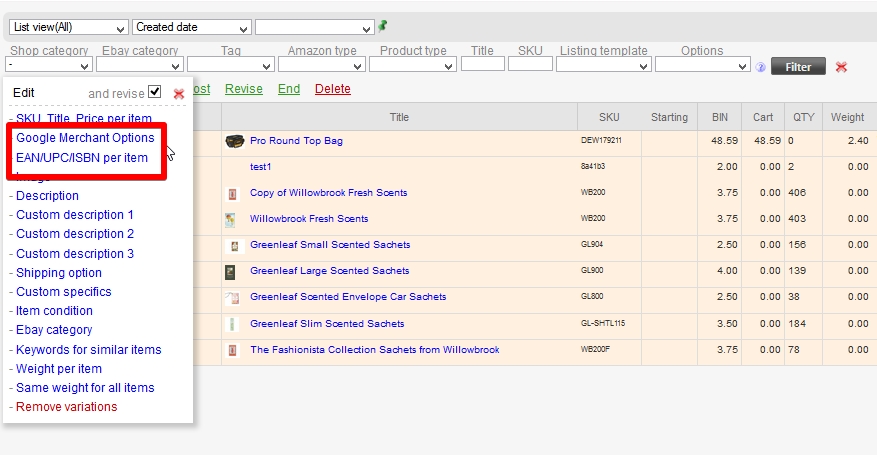 Upon selecting one of these you will have the data grouped in an excel-like grid which allows you to easily toggle from cell to cell and fill in the necessary data:


Once you have added all the data please remember to save and revise the changes and you are all done.
One more thing to keep in mind is that these product identifiers will become mandatory for multi-variation listings starting 1st of September 2015 so we would advise you all to start adding these to each individual variation as well so you will be prepared for the update once it kicks in.