Ad-Lister 2015 FREE Widgets Keyword Research, Listings Recommendations and a new User-Managed Template Builder!
Greetings and Happy New Year to all our Ad-Lister users and may 2015 bring you all business success and growth in the year ahead!
Along with the New Year your favourite e-bay listing tool has had a few new improvements, and this following article will briefly describe each of them along with future plans for the upcoming year.
These great new widgets are here to help you as an eBay seller and if used properly you will definitely see some good results in your eBay online stores.
These new dashboard widgets can be added only via the new style dashboard. In case you haven't activated it yet you can easily do this by going into your common settings page from within Ad-lister and on the left hand side navigation menu within the "other settings" section you will find the option to enable the new dashboard. Once you have it enabled, click onto the new dashboard and you will notice an "add widgets" option to the top right of the page. Click here and you can start customizing your new dashboard to display only the necessary options you want to see.
Please note some widgets require additional add-ons in order to work. Feel free to contact us if you require more information concerning any of the available add-ons. These will be further presented and described within the  next few articles but you can also find them within your account settings page on the left hand side menu under "licenses".
Whenever we have new features implemented or news concerning our products or services you will always see one or more messages displayed on your dashboard. Also when you have finished viewing the news, you can always discard them and make more room on your dashboard to add the newest widgets by clicking the red close button on the top message.
Ebay popular searches:


A handy and easy to use widget which allows you to spot the most commonly used keywords per category searched on eBay. You simply add this widget to your dashboard, browse to the eBay category you wish to perform the search in and wait for the results to appear.
In the example below I am showing you a simple search in the Mobile Phones & Communication > Mobile & Smart Phones category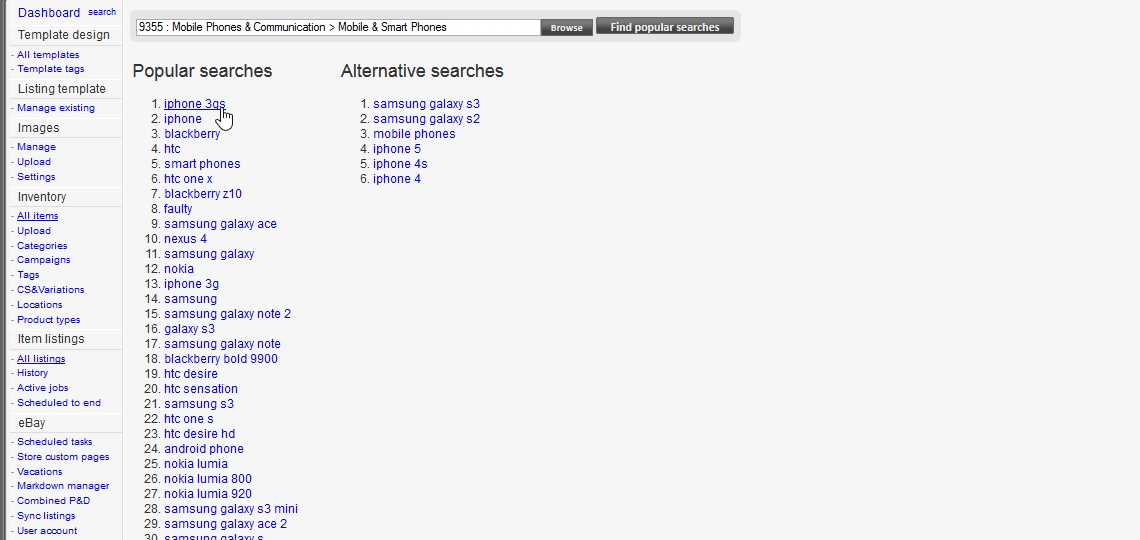 This widget will help you understand what products sell well in this category and can identify competitors eBay listings and how they are marketing their material on eBay so you can learn from them.
Besides giving you the most common searches, clicking on any of the results takes you to eBay automatically and you can then quickly surf through the first result page to get an idea of your competitor's products and prices as well as their positioning. A perfect way to research and observe, before taking the appropriate steps.
This new widget is FREE and does not require any extra license to work so anyone can use it whenever they need to. You can keep it on your dashboard for continuous use, or remove it when you like.
Any of these widgets can always be re-added at any time from the "add widgets" option.
Ebay product recommendations:
After gathering feedback from our customers on this topic, and since eBay has released a set of API calls which finally allow us to implement this feature, we are glad to announce it is included in the live version of Ad-Lister.
This widget is created using eBay's knowledge-base and shows a list of eBay generated recommendations that sellers can implement in order to improve the quality of their listings and comply with eBay policies.
Why should you use this widget? By implementing these recommendations from eBay you can improve your listings quality and increase search exposure, thus generating more sales.
A list of common recommendation types that may appear in your eBay account is as follows:
Category Recommendation Type – Improving miscategorized listings: this recommendation type is returned if eBay has determined that the item has been miscategorized (or placed into a non-optimal category). Items that have been miscategorized may not be as successful as these listing may not get as many hits in searches.
Item Specifics Recommendation Type – mandatory and recommended item specifics: Item Specifics allow sellers to provide more details about their item in a structured format, allowing potential buyers to more easily find the item, and to help those buyers make an informed decision about purchasing that item. Required and recommended Item Specifics for a listing will depend on the eBay Category that the item is listed under.
Condition Description Recommendation Type – using condition description to improve your listing: this recommendation type advises the seller that a used item listing could be improved if a Condition Description was added to the listing. Condition Descriptions may help potential buyers make an informed decision on whether or not they want to buy the used item, and may increase the seller's chances of receiving positive feedback from a buyer.
eTRS Recommendation Type – eBay Top-Rated Listing Requirements: the top-rated seller requirements vary for each eBay site.
Picture Recommendation Type – picture requirements in listings
Price Recommendation Type – Recommended Prices and Listing Format: this type is used by the seller to discover which listings are not optimally priced, and/or which items are in the wrong listing format (fixed-price vs. auction). This recommendation type is only supported by the US, UK, and DE sites.
Title Recommendation Type – Recommended Keywords and Item Specifics in Listing Title: this type is used by the seller to discover which listings have titles that are missing valuable keywords and Item Specifics, or that contain keywords that inaccurately describe the item, possibly leading to a bad buyer experience. This recommendation type is only supported by the US, UK, DE, and AU sites.
Making use of listing recommendations through the recommendation widget can be useful to all sellers, regardless of their selling volume as it gives useful tips on how to optimize your listings for full exposure.
This widget can be easily added to your dashboard though the same "add widgets" option on the top right:


Once you have added this widget to your dashboard it will start "crawling" through your listings and display recommended updates: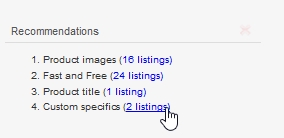 When the task is completed you can simply click on any of the blue links which will take you to your "all items" page, and this will display only those products that need updates.
You can easily find out what suggestions eBay offers by clicking on the product's title:


Once you've decided what to update you have all the bulk editing options within the current page so you can start adding the necessary info to all your products in one go.
As a future enhancement to this option we would like to call this widget prior to posting your listings so recommendations are made in the first instance. Further updates will be published once they are available, watch this space.
This widget is FREE and is available for any user of Ad-lister with no need to purchase any add-on.
The last update and one of the biggest enhancements to Ad-Lister is our very own user managed template builder.
This is currently only available for new Ad-Lister subscribers and we will have a flat payment plan for it as well.  We offer a 7 day free trial to any customers.
If you are an existing Ad-Lister customer and have a second store you wish to try this out on, or if you are a new customer and are seeking for a great software solution which integrates easy bulk product creation/editing, user friendly campaigns for shop management, supplier data feed integration, import of your existing eBay data (and many more) and a feature which allows you to generate your own custom listing design, we have got it all!
Subscribe today for a free trial by visiting www.ad-lister.co.uk
Once you create your user account and your eBay design, you will need to connect Ad-Lister to your eBay account after that you will see a short "to do" list on your dashboard which will help you step by step on setting up the account so you can easily post to eBay: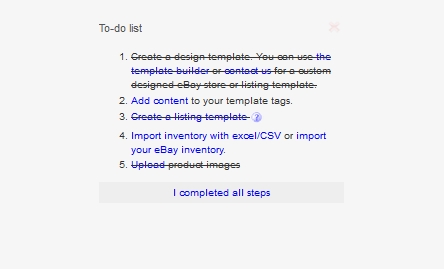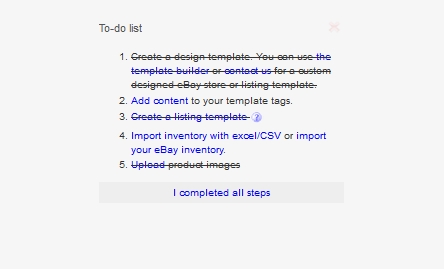 These steps will allow you to: link Ad-Lister with your eBay account, create an eBay listing profile, import your store categories, create your own design template, add content to your store custom pages and import your live eBay listings.
The template builder, along with all the other steps will be available only after you have successfully linked Ad-Lister with your eBay account which is the 1st and most important step, since failing to do this will result in no connection between Ad-Lister and your eBay account.
Working with the template builder:
Before starting to customize your new template you should give it a name your eBay name is fine to use after which you can proceed to customizing it as you desire. The builder contains these following sections :
1.      Logo: the logo section offers you the ability to generate a simple text logo with a custom colour of your choice, or upload a custom designed logo image/text. Please note the logo will be aligned on the top left corner of your template, just above the header.
In case you need the logo to display in the middle or left hand side please upload a wide image with the logo aligned in the correct spot, and upload that to your template. Here are two examples:
The logo has been uploaded as a simple image 200 x 200 px: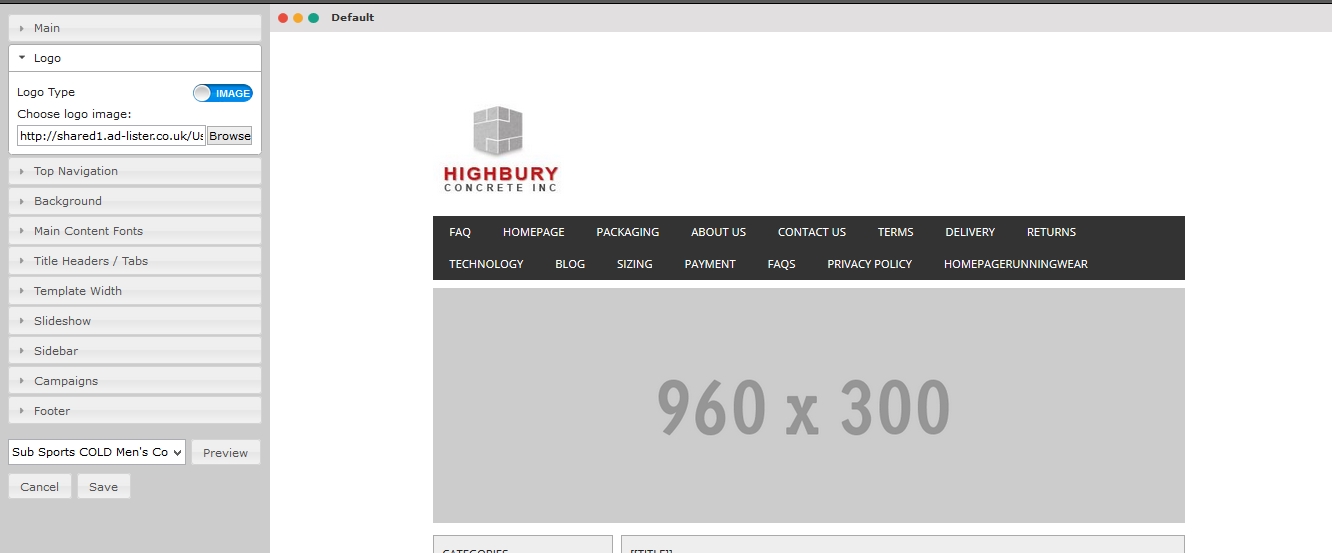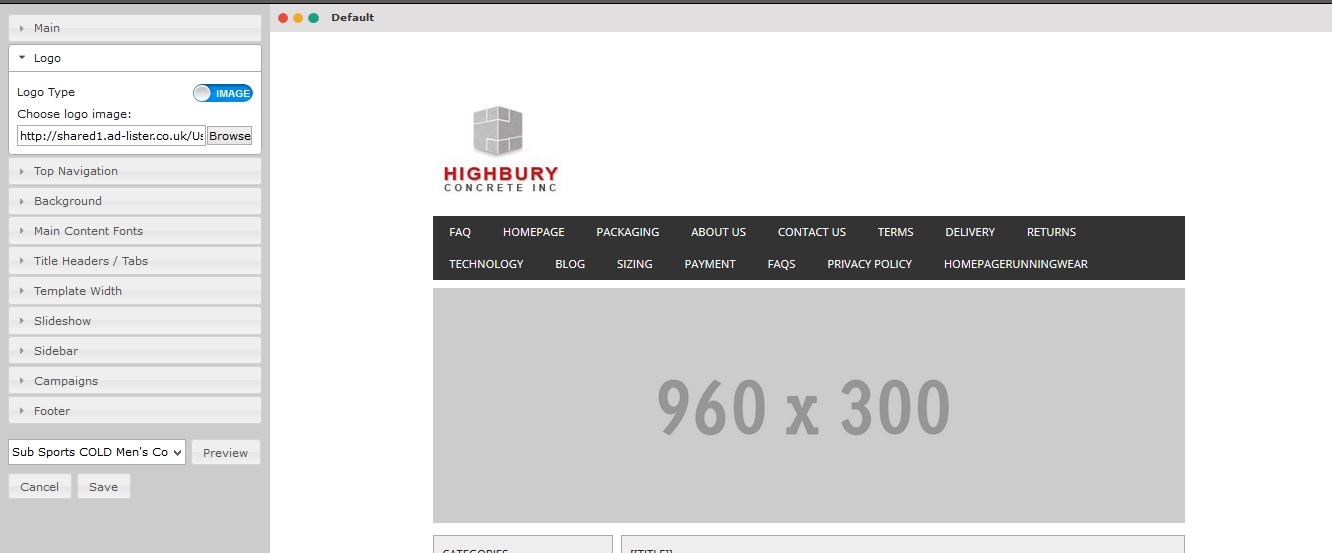 The logo had been placed in the middle of a white 960 px wide image and this image has been uploaded as the actual logo resulting in it being center aligned:


You have the entire width of this logo section to yourself so you could even add your own custom header or other design elements along with the logo, as long as it has the required width and it's one single image.
2.      Top navigation: is the section right beneath your logo. This navigation header will display any store custom pages you have created within your eBay account, as when you link Ad-Lister with your store these are being imported in.
If you need additional custom pages you can add them within the left hand side navigation menu under eBay > store custom pages.
Please note these shall be added before starting to create your new template so that the builder will import them over and display them once they are added.
This section offers you customizing options for the font used in the top navigation menu, the font size and color, as well as the navigation background color and the color displayed once a user hovers the mouse pointer over the menu options.
If you don't want one or more of the custom pages to display here, you can always remove any of them by clicking on the red "x" mark available on each tab.
You can also drag and drop them to decide the order in which they are being displayed.
3.      Background: you can choose from two options: a single solid color as background, or a nice background image. Please note that if you are going to use a background image it might display different, on different devices. This is directly related to the device this template is viewed on and your template actual width (which you may see displaying on your banner grey background or within the "template width" section). In conclusion you first need to set your template width accordingly and then find a suitable image which will display nicely along with your customized template.
4.      Main content fonts: this section allows you to customize the fonts and styles within the main content sections such as: the price display tag, the buy it now/watch/e-mail item button fonts besides your image, the actual product description as well as the additional custom pages: about us, delivery, shipping etc.
5.      Title headers / Tabs: this section allows you to customize the fonts and styles of all the section headers you have on your template, except the top navigation menu which is customized on step 2 individually.
6.      Template width: allows you to set the width of your new template in pixels. This starts at 800 pixels and goes up to 1340 px wide. Please note full width templates might display differently on different device screens.
7.      Slideshow: allows you to customize your banner campaign. You can choose to display or not to display this banner campaign. You will need to have some banners ready for uploading. If you need only one banner displaying you can upload only 1 and it will display continuously, or you can upload a number of different banners and have them rotate in a predefined sequence.
8.      Sidebar: allows you to manage your sidebar menu. You may choose to display it on the left/right or not to display it at all. The sidebar menu contains your shop categories and product campaign(s).
9.      Campaigns: allows you to choose which campaigns you need to setup on your template. You can manage shop categories, best sellers, gallery images, additional tabs etc. Choose only the ones you want displaying in your template.
10.      Footer: in the footer section the "information" section is fixed as it displays your store custom pages but you do have two editable regions which are: "newsletter" and "contact". You can amend the text within the left "footer" section and you can amend the section name by simply clicking on it within the template.


Once you have finished customizing your template you can preview it on an actual product (if you have one within your inventory page) and if everything is fine save it and you are ready to use it on live listings.
Select a product from the bottom drop-down and click preview. If you notice issues you can make changes to your template. Otherwise proceed to saving it and you are ready to start applying it on your live listings.
This template builder is available free of charge to any new Ad-Lister subscriber and can be used to generate one design template. This generated template can always be amended as it's stored within your Ad-Lister account under template design > all templates, from your left hand side navigation menu. However you cannot create additional templates at this point. Adding additional templates will be available soon for a one-off fee and we will offer multiple packages according to the number of templates one would need to create.
Hoping that I have drawn your attention with the above article, feel free to try all these out today by subscribing to a free trial: www.ad-lister.co.uk.
Many more interesting enhancements are on the road map for this year so stay tuned for further news and articles.
Next topic, Ad-Lister is getting a new coat in 2015! A brand new and improved user interface is being cooked-up as we speak in our design and development department, so keep in touch for sneak previews and more news of the upcoming changes and enhancements on http://www.justtemplateit.co.uk/blog/.