The top eBay sellers 2015
Web Retailer have updated the comprehensive list of the World's Top eBay Sellers. A thoroughly well written article setting out to order the top 10 superstars per country. This has been gathered by positive feedback over the last 6 months up to May 2015 with the previous results published in February 2014. Please note the feedback is an indicator of sales volume but not revenue you also need to be remember that not all buyers leave feedback and the number of items sold will be far higher than the volume of feedback received.
"Sellers without an indicator were not in the 2014 list. Hover over the indicator to see the 2014 position." WebRetailer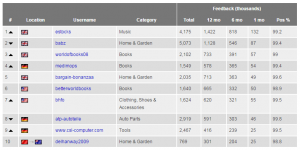 Web Retailer have also broken the data into the Top eBay Sellers for the US, UK, China / Hong Kong, Germany and Australia
Well done to five of our customers who have made it into the top 10.