Which is the most successful webcart platform ?
The eCommerce business is expanding in a huge rate every year. Continuous development and the ever changing requirements are shaping the market day by day and ensuring its competitive for all.
Taking a look on recent surveys we found out which is the most popular of the different eCommerce website platforms and what kind of increase they saw recently. The surveys took as a basis the Alexa (a company owned by Amazon) top 1 million sites and takes a look on which different platforms they are built in.
Magento is the leader among the eCommerce platforms for years now. It had seen a major increase, the number of its sites being 35% higher this year. Considering sites with ranks higher than 250,000, Magento is also on the lead with 2516 sites. Among the top 100K sites found by Alexa, we can see  2373 eCommerce site, out of which 704 is Magento. A good 30% of the business is theirs.
WooCommerce is the new addition to WordPress and it seems to be gaining more and more on Magento, having 4524 sites it is the second most popular for eCommerce websites. Also, among the high ranking sites it follows closely Magento with 692 sites. WooCommerce also makes a position on the stand amond the platforms with most sites among the top 100K sites. With 186 sites it takes the third place, which is not at all bad for such a new software. It is also a quickly adapting party, with 8 point releases in the past yea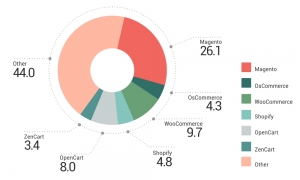 r.
Shopify and OpenCart are also seeing major increases in the number of their sites, which is not surprising after constant improvements made on their platforms. Shopify launched their mobile version and OpenCart has been updated with a version and 5 point releases.
The ones who faced decrease in the number of eCommerce websites were Zen Cart and osCommerce. They have been fading out in the past years and the trend seems to continue with them this year too.
No wonder, as there are so many other small platforms trying to gain their fair share of the market. 28 new technologies have been recently added and this makes up to 77 recognized eCommerce platforms. But even in this bloom of new platforms, Magento is still winning over most of the market, being the base for 26% of its sites.
The number of eCommerce sites Alexa detects in its 1 million list is growing yearly in big rates. Now it there are 46859 sites in this list, which is 34% higher compared to last year. Another constant improvement is in the number of sites that have a mo
bile responsive design. Currently 16% of these sites have such a design and the number is curling up, as mobiles gain more territory each day.
So there are a lot to choose from when it comes to eCommerce websites. No matter if it is the biggest one or one of the smaller technologies, your business can gain more when opting for one. The numbers never lie. You can be among the best sites yourself!
Call us today for more information 0121 285 1050
source generated by: www.tomrobertshaw.net