How flyers can help your business
How can flyers help your business
We all know that every business needs to get a word out there about who they are and what they do. Promoting a business is an ongoing challenge for small businesses. How can you advertise your business and get your name in front of potential prospects when money is tight or you're just starting up?
Between social media networks and online websites, digital platforms are popular for reaching customers. Everything happens digitally nowadays, but traditional ways of promoting your business are by no means dead. For example, let's take a look at flyers, and see how one of the oldest methods around shapes up for a modern day business.
Flyers
If you want customers, you're going to have to let people know that you exist. This is called marketing and promoting. Sure, you probably have a website, a Facebook page and maybe even a physical shop. But believe it or not, some people take very little notice of things that aren't right in front of them.
Our attention spans are shorter than they have ever been. Which means you have to work harder than ever before to be noticed, not to mention understood. Using multiple channels, various approaches and a mixture of both traditional and modern practices will help increase your visibility.
You'll have to keep in mind that just like with any promotional tool, your target audience is key. Capturing offline customers can add huge value to your business and win you a vital competitive edge.
Flyers have long been used for a many purposes. From announcing the arrival of a new business to providing special offers and letting you know that circus is in town, flyers can be great for a wide variety of businesses.
Flyers are simple and familiar
Yes, this is important! Flyers are a very classic and familiar way of promoting your business. They can be a very great way of getting some new offline customers in, but you'll have to keep in mind that it has to be done correctly! Don't rush it, and don't over-do it.
So, do flyers still work nowadays?
Yes, they do. But again, only if you get them right.
Let's take digital ways of marketing as an example. Marketing emails can be deleted before they are opened, social feed algorithms can dilute your audience and slow internet connections can increase your site bounce rate. Straight off the bat, printed media isn't affected by any of those obstacles, making it a great method that many top businesses still use to this date.
Consider your online activity today – have you scrolled past chunks of information and promotions without fully processing it? More than likely.
Now consider your last encounter with a flyer – did you throw it away without at least reading what it was about? Unlikely.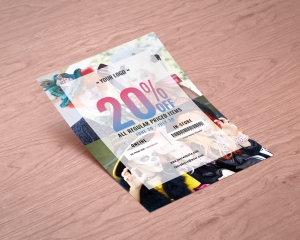 Our patience with printed media vs. our online behaviour has been explored in many studies, with the majority concluding that we read more intensively on paper than we do on screen. As such, you want your customers to be as attentive as possible when reading about your business, so clearly printed media is a route to be explored.
How should a good flyer look like?
Well, a typical flyer size can be anything from A7 to A4, depending on its purpose. Even if you opt for the largest size (let's say, A4), you still won't be able to display all the information about your business and all the details. But that's fine, because people don't have time to read that much.
If you want your flyer to make an impact, you have to pick the points you make and limit them to a select handful.
Keep your flyers simple
It's not just your message that should be simple, the design of your flyer is vital to its success. Make it easy to read and understand.
Don't overcomplicate your design with lots of imagery and text effects. The easier it is to understand, and cleaner it is to look at, the more chance your customer will take in what it's trying to say.
So you've picked your most important messages and designed a simple, effective flyer. You are trying to show off the key aspects of your business. Now, the worst thing you can do is to ruin it all when it comes to production. Cheap, faded photocopied flyers will speak volumes about your business' attitude towards quality. That doesn't mean you need the finest quality paper or special printing effects.
You can still produce cost-effective flyers without cutting corners. Just shop around and do your research to make sure you are doing your message justice.
Let's take one of our clients as an example – ShelfEdge.
ShelfEdge is a home and garden online shop. They provide high-quality artificial flowers, plants foliage, and many other types of decorations for your garden.
They use flyers a bit differently than you'd might think. Instead of handing them out randomly, they usually add one of these flyers in the parcel that you've just ordered. For example, you've just purchased something from their website, the parcel gets sent to you, and together with the product(s) that you've just ordered, you also get a flyer that acts as a voucher. It can contain offers such as "10% off your next order with us", or "sign up to our newsletter for 5% off".
These are great ways of keeping your existing customers and making them loyal to your store.
To sum up
Flyers are a great way of attracting new business offline, and as previously shown, a great way of keeping your customers loyal. Flyers have been used for marketing purposes for decades, and there's a good reason they're still around today.
Also, despite being largely affordable, randomly spreading flyers around is a very quick way to lose money, especially for a small business. You need to think where to spread them. Your flyer is only ever going to bring you business if it is distributed appropriately. Think about your target customer – how they shop, where do they live, etc.
So, as long as you use flyer correctly, they can be an extremely effective way of attracting new customers, while also keeping your loyal customers.