Working with WooCommerce
Working with Woocommerce should not be a hassle, and anybody familiar with WordPress sites will appreciate the ease of use WooCommerce has brought to WordPress. For those who don't know, WooCommerce is the most popular open-source e-commerce plugin for WordPress.   WooCommerce is a relative newcomer on the e-commerce scene but has already attracted a large following and acceptance in the IT and business world. This is due largely to the ease of use.
WooCommerce is free to download, but unless you are an experienced coder and have a secure server, it is advisable to work with a design and hosting company for your new site. The most important part of an e-commerce site is functionality and design. The design part of the setup can be done by yourself or through a design firm. The coder will then add your design to WooCommerce.
Working in the WooCommerce back end is very straightforward. If you get stuck, there are many free tutorials online to guide you through the process. Logging into the admin panel is the same process as WordPress.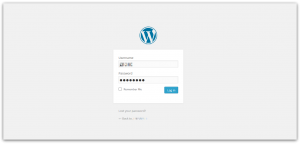 Those who are familiar with WordPress will recognize the admin page straight away (it's the same as it was). You will notice on the left hand navigation bar "WooCommerce", by clicking here, you will enter your e-commerce settings. You will also see your e-commerce theme which is indicated in the screenshot.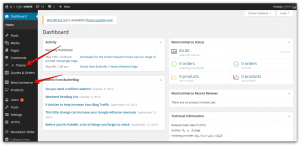 You can view and process your orders, set up coupons, run reports, access settings specific to WooCommerce, and manage any addons you may have installed on your site from within this menu. Below that is the Products menu where you view your products and edit them in need be, add new products, manage your categories and tags, and set up your shipping options.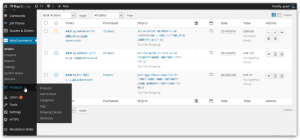 As I stated previously, there is a plethora of free tutorials and guides to help you find your way around WooCommerce. But all in all WooCommerce is one of the least complicated e-commerce platforms on the market.  With 17.77% of all e-commerce sites being WooCommerce, there surely is a large amount of work being put into this platform and addons. So if you are contemplating which e-commerce solution is right for you, remember to not complicate things and make your life easier by using a platform that is easy to navigate and user friendly.