The best Shopify apps for 2020
Running your Shopify store is totally different from running a personal blog – there are so many things to oversee. You need to take care of the email marketing, secure checkout, shipments and speed optimizations. This can be quite a task, but luckily Shopify does offer a wide variety of powerful apps to help you monetize your store – this is why a lot of people rely on Shopify when starting their eCommerce ventures. Let's see what are the best Shopify apps to choose in 2020:
Seguno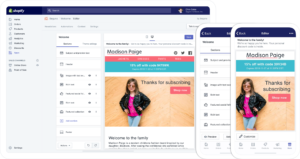 This is one of the most popular emailing apps – it can help you turn your new buyers into regular customers. Seguno helps you send welcome emails to new customers and can also generate thank-you emails to build trust with your customers.
This is especially useful in the long run by ensuring buyers remember your brand.
What features does it have?
You can set it up to automatically send welcome and thank-you emails for your new customers.
It can help with turning new buyers into loyal customers
It uses dynamic recommendations for helping with an abandoned cart
It can help with generating discount codes
Seguno is a good fit for those who don't want to annoy their customers with long-form sales copies and just want to thank them for making a purchase. You can use this app for free up to 250 subscribers.
Plug in SEO
Plug in SEO makes sure that your website and listings are all optimally set up in terms of SEO. Once installed, the app will automatically detect all SEO aspects of your store- including keywords, speed, blog content and broken links- this means that you won't have to check pages individually, making it one of the best apps for search engine optimization.
What features does it have?
It sends you email alerts whenever there are issues with the SEO
Gives free instructions, including code snippets for fixing SEO
It helps you to gain organic traffic by checking and improving SEO
Search engine optimization is essential for websites in order to get steady streams of traffic – that is easy to convert. Plug in SEO is good for those people that would like to manage their SEO without a lot of extra work.
The addon is free to use for basic SEO scans, but you will have to pay extra to unlock the extra features – which comes at the cost of $20 per month.
Oberlo is one of the most used Shopify apps –it's used by most dropshippers to find popular products online and start selling them immediately.
What features does it offer?
It helps you find trending products to dropship from suppliers worldwide
You can track all of your orders using one interface
It helps you ship directly from your supplier to the customer without any interference
You can use Oberlo for free – but if your eCommerce store starts growing, you will have to switch to a premium plan starting at $29.90 per month to get all the important features
Wishlist Plus
If you don't have a wishlist option on your website, then you're seriously missing out. By adding a wishlist option to your website, you can increase your sales by up to 19% – this statistic alone should have a large enough impact to get Wishlist plus right away!
It's easy to install and to customize, the smart dashboard provides the shop owner with metrics and reports of the Wishlist activities. Owners can use this information to better their website and increase sales.
Kit
You might have all the best products and an even better Shopify store, but none of that matters if no one sees it. Millions of shop owners have issues with their presence on social media. This is where Kit comes in – it helps to manage Facebook and Instagram ads through a simple to use messenger interface.
What does it offer?
It has a built-in AI that helps search the targeted traffic for your store
It allows you to run Facebook and Instagram ads from a simple Messenger interface
We would recommend this as one of the best Shopify apps for social media advertising. You can use it to run successful business campaigns while you are asleep.
Conclusion
If you are planning on opening an online store, Shopify might be the ideal platform for you. It offers great functionality and you can add lots of versatility by utilizing the various apps in the Shopify marketplace. We do encourage you to take a look at the offerings on the Shopify App store – but these five apps are some of the best that Shopify has to offer.
These apps will definitely help you boost your sales, retain your customers and build your store reputation.